Description
ARM
The handles are covered with cream leather. Leather skin contact participate in comfort sensation. Suede leather gives more touch precision like racing car steering wheel.
Elbow wheels and knee are full SILVER 100 mm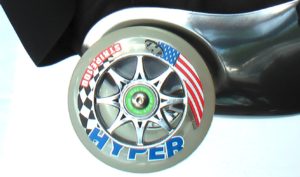 wheel HYPER STRIPE chrome hub + SEBA Twincam ILQ9 slalom PRO bearings. Special steel axles. Every screw/bolt is blocked with loctite like racing cars and airplanes.
SEBA Twincam ILQ9 slalom PRO bearings. These are the actual high standard quality bearing on the market. They are ready to be fast.
masking will have to be removed before rolling
The foams are all 3D hand hot shaped. That makes the arms more easy to wear, and collaborate to minimize pinch.
SILVER HERO LEG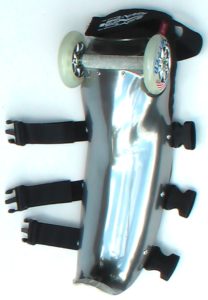 Composite hard shell . Shape design follows the geometry of bones. Section profile positions the edge of the leg no matter the muscle volume and size.
There are three wide straps making more contact surface to reduce skin pressure. Every straps has ITW nexus buckle that is used in US army. safe, reliable, efficient, light. The straps are also designed to compensate the muscle variations during skating and armor piloting.
The knee pad had been custom redesigned, resewed to fit the function of the BUGGY ROLLIN wheel suit : shock absorbing, comfort driving, motion freedom.
the SILVER HYPER Stripe 100 mm and the SEBA Twincam ILQ9 Slalom PRO .
CHEST. the green protection will have to be remove later. The wheels are under cellophane to keep them clean. Actual wheels are Kryptonics Classic Optic grey. It is the wheel we used on Jackie Chan movie CZ12. Later you can buy and choose any other wheels to make your own test. This ones fits the SILVER HERO set.
Film and green protection must be remove before use.
SILVER HERO Shark BACK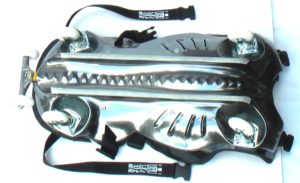 SILVER HERO Shark back is the last evolution of back.
It has shark vents on the side for cooling system. The base of the butt truck is integrated.
General shape design allows a good mechanical stability to position of the spinning wheels. The independent inner soft shells allows and accompany motion freedom of the back spin, from arching, to bend forward. It has adjustable Y form elastic straps on the flanks to always keep chest in contact. It has a adjustable harness to string up the body during "luge" (sit) and "gognoc" position. Strap and wire sewings quality comes from paragliding technology (SUP AIR). Buckles from ITW Nexus used in US Army : safe, reliable, efficient, light.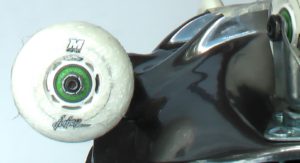 Matter Juice F2 72mm, the best wheels with narrow profile to avoids wobble.
SILVER HERO  (Jackie Chan) HIP PROTECTION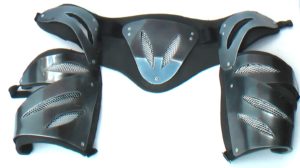 This particular HIP Protection belongs to the aero serial (with vents), and has SILVER aluminum shaped grid. It has been originally made for Jackie Chan CZ12 Movie. But it was too difficult to reproduce. Because we need 2 suits for the movie. So a black aero hip protection was used for the movie, and this SILVER protection joined this set. There fore it doesn't look completely new. But it goes perfectly with this SILVER set.
SILVER HERO SHOULDER PAD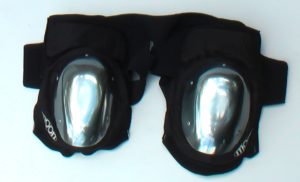 It is the only shoulder pad with glass + carbon + Kevlar cap. so they are more light with equivalent resistant than other shoulder pad. But SILVER paint is more fragile, so it will need care.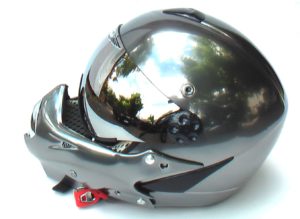 SILVER HERO HELMET
It is a HMR modified helmet. it has SILVER special paint. It is very light, has a big visual field, a chin guard, an extra big breathing capacity, SILVER mirror lens. Its light weight and wide field makes the sensation of experiencing a full 3D game when going down a bob track, without early muscle pain in the neck. So it is more easy to go in G forces.