Examples of Jean Yves Blondeau as Instructor
[unitegallery VBR_school]
Teach a woman and a boy.
Both are good skater in differet style. Kyung ae is slalom skater, and gilles is stunt skater. We took care of the back ground and quality of the student and talor made the lesson.
First step
For training Kyung ae, we took a small road in the alps, with no traffic. we had radios and a driver. She learned to land-change position, to turn, and to brake on five runs.
Second step
get together and ride a more step road. Jean Yves Blondeau gives the example as Instructor. He also has a radio to make comment and explain.
Third step
In Lausanne, we meet sebastien bertholet who is a good rider with experience, and Gilles. Gilles is a good skater but begginer as buggy rollin. After one hour of flat practice with 3 teachers he was ready for downhill
Forth step
Get in to la VALLEE DE LA JEUNESSE in lausanne near HS36. This is the perfect place to begin. Gilles get very fast progress. He understands quick. And he has some funny comment .
Teach a star
THOMAS C HOWEL is son of a famous stunt actor. So he is not affraid. We worked one day together. He is not inline skater but skateboarder. So he refused to wear inline skates. Jean Yves Blondeau Had to adapt his pedagogy to the choices of the guest.

First step

In skatepark, Thomas learned the basics. The positions, the motions, and then we tryed some lines. He followed me on the modules and made some jumps.
Second step
We went in one of the most beautifull downhill of north malibu: Decker Canyon. With the special arms it was easy to brake. so Thomas could taste the steap road after a few test.
But this way of discovering Buggy Rollin is very superficial. The student has no time to understand some very important skill to fully enjoy the sport. It is good for a tv show where want to show some spectacular images and funny talks.
Coaching BUGGY ROLLIN
You want to learn BUGGY ROLLIN ?
you can BOOK jean Yves as private teacher.
he will bring you a suit and so you can access sensations !
Contact here.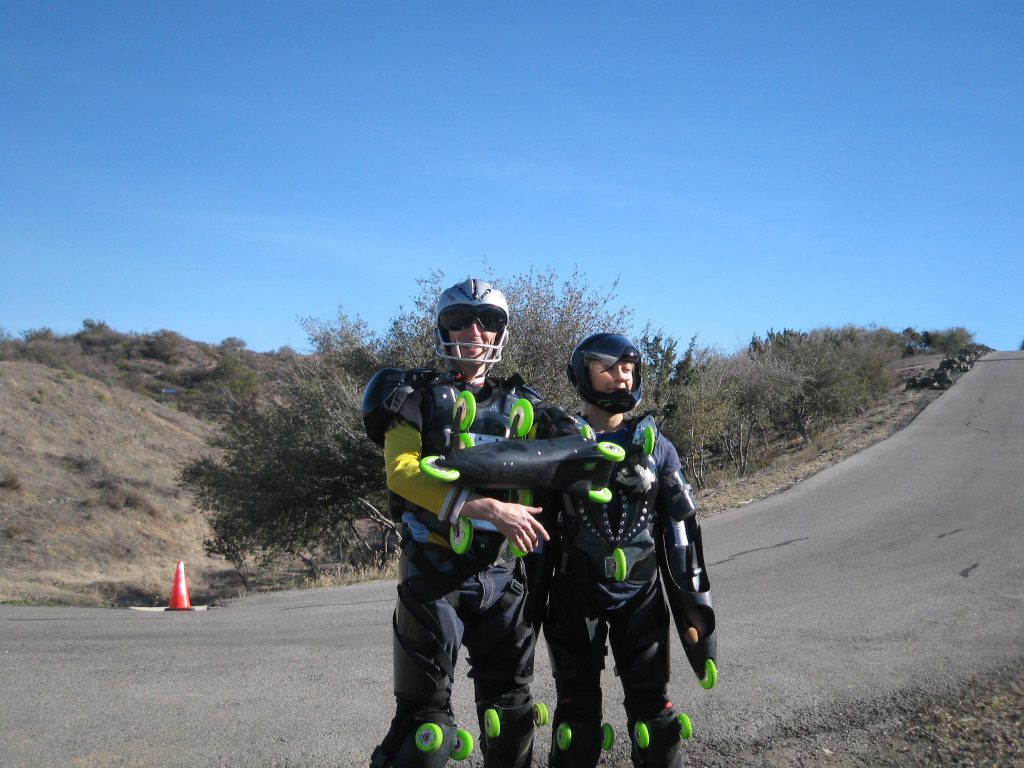 coaching for movie
coaching for pleasure