Head first in 2010
BUGGY ROLLIN videos 2010 has nice races like Teolo. Teolo was the first time to get in downhill hair pins head first. It mean without hands for safety. Really head first. And it was great. Scary because there is no way to make emergency brake in this motion while proceeding a curve.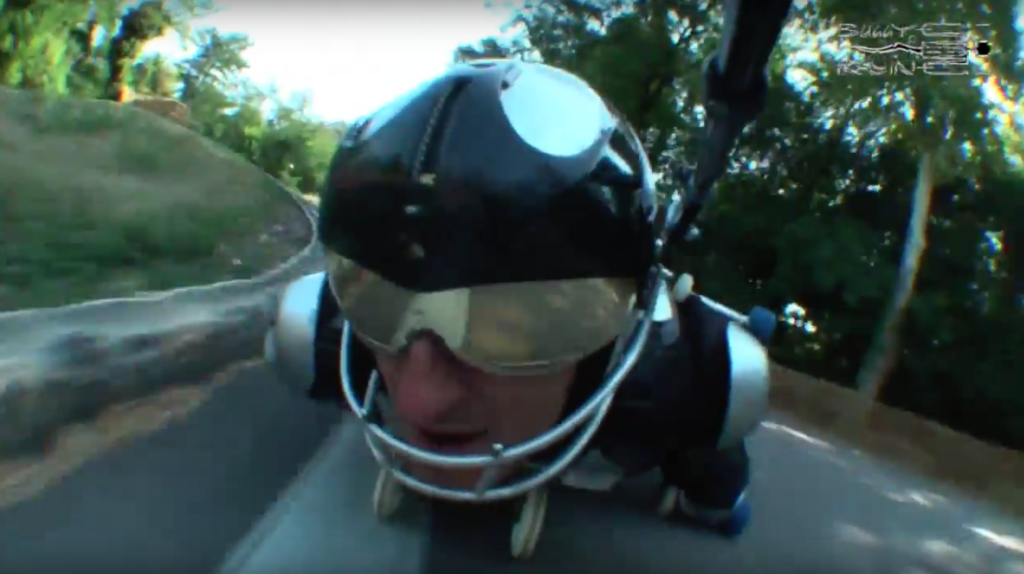 In TeoloKeynose, Jean Yves Blondeau comments the downhill. Key is for explanations. Jean Yves explains the track and you can see the progress of the technique of getting in curve with only one arm and them no arm at all as it happens.

Blue arrow
There are two video of Almabtieb. One is short the other one shows the full road plus what happen on the side of the event.
the cooperation with nude group for the music is very nice. "During crossing the forest the road is so fast that i felt becoming like a bleu arrow" Jean Yves said.
Mission graveyard
The graveyard call BUGGY ROLLIN videos 2010 was made thinking to participate to a video contest "show your day". That's the reason why it is starting with preparing inside the car, the screws, and then the run .
Haining Show
Show in Haining was in China. It has been recorded by Sueb from Thailand. Thanks him we can have image of one of the numerous show made in china at that period.
Learning BUGGY ROLLIN on One day with Jean Yves Blondeau
This is the topic of the video "debutant first step How to BUGGY ROLLIN". You can follow the step of an Asian Woman on alpin roads. And you will discover how fast Gilles get good at rollin in the slopes of Lausanne.
Here is the video gallery 2010
[unitegallery VBR_10]
Nillor Yggub in Berlin
The last of BUGGY ROLLIN videos 2010 is a test of choreography with TATIANA WARNECKE in a fetish alien mood (for adult public).
For the Ones who do not Know Nillor Yggub he has a facebook page. He is a project of cooperation with Tatjana. He is the dark side of BUGGY ROLLIN. As much as Rollerman is nice and gentle, NilloR is free out of boundaries.