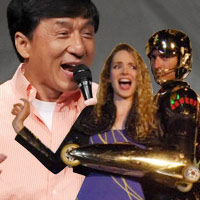 For the Promotion of his movie CZ 12 Jean Yves Blondeau went to perform with his Golden Goldfinger BUGGY ROLLIN suit on stage of Comic-con with Jackie Chan at San Diego USA.
The surprise was back stage, to meet at the same table Silvester Stalone, Arnold schwarzenegger, Jackie Chan . But Jean Yves did not sit because he was wearing the BUGGY ROLLIN suit , and because he was not the welcomed by the agent of silvestre. Sorry but there is no picture of this back stage event. Camera were not allowed there.
With Jean Yves in purple, the pretty blonde, who has a degree in engineering, and speaks fluent Chinese is the french actress, Laura Weissbecker, the perfect Chinese woman as she wrote in her book.
We found this video about comic-con

French press about coworking with Jackie Chan