2011 Events Saint Mury Freeride France
Saint Mury is maybe the most dangerous crazy fast downhill freeride 2011 Events in france. In the middle of the forest at the end of the mountain goes a steep narrow street. Jean Yves was there to perform great slide for baking and laser cutter trajectories with happy super fast friends.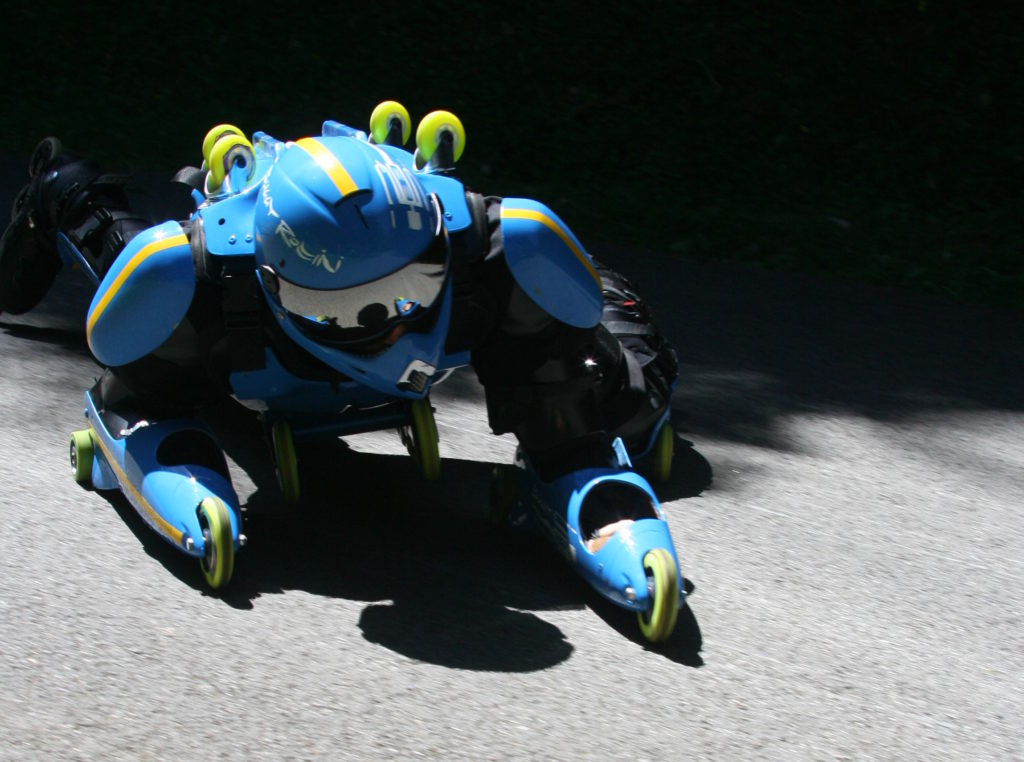 Geisingen was a Major event in the year about freestyle skate slalom. The opening ceremony was Epic. Jean Yves Blondeau made one of the greatest show with the complicity of light men.
[unitegallery PBR_11_Geisingen]
7 years later, we decided to edit the video that has never been shown. We do not have the full show, but some short sequences. we tried to put all together to give you an idea.
NilloR YgguB @ Dresden
In order to promote Beton on fire Altenberg, we use to go in the city of Dresden for running with night skaters. This year Nillor Yggub, the dark Knight was in the street. The police was looking carefully,  a bit suspiciously, and the gothic were signing and shouting form the other side of the street. This is another family.
Altenberg Beton on Fire the best event ever in bob track. New titan suit was just finished and made its first wheel spin in the white tunnel. Very beautiful pictures.

We also had the Blue Aramis Mennen suit in the bob track .
Blue Aramis 2011 Events Altenberg gallery
Students of Altenberg
Yanran Cheung, the Chinese translater was here. after the race she tried the buggy rollin suit making a nice memory .
Falko Quinger the super fast skater from Dresden also tried the suit.
In Bukolik, a freeride organized at les Avants Swiss, Jean Yves could meet his little brother sebastien Bertholet "Otaku Rollin" and run downhill together . The brand new Titan BUGGY ROLLIN suit of Jean Yves is amazing under the nice summer sunlight.
BUKOLIK gallery
Finally the video gallery of 2011
[unitegallery VBR_11]