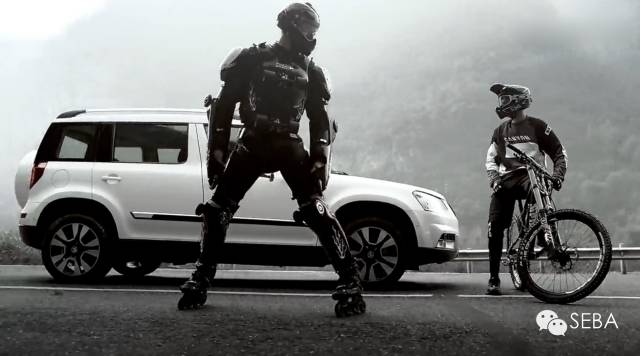 Rollerman advertises Skoda in China.
Jean Yves Blondeau made an advertising of VolksWagen group Skoda in China as main actor. The concept is crossing over disciplines. A rally car driver, a super mountain bike pilot and Jean Yves Blondeau as Rollerman in black tiger and dragon BUGGY ROLLIN wheel suit are racing down a mountain. They are not only racing but playing interact and build complicity together through their own way of expression. For example Rollerman is holding the hand of the driver of the car to get speed. Rollerman is pushing the bonnet of the car to set the pace. Together with the car they draw trajectory line on the road that looks like a dialogue between two characters.
The advertising won a price of best commercial film in china for 2015.
Rollerman advertises Skoda the pictures.
Rollerman advertises Skoda the film.